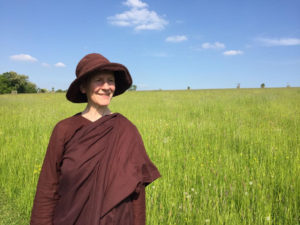 Ayya Anopama,‌ ‌born‌ ‌in‌ ‌Germany, started practicing meditation in 2002‌. In 2010 she‌ ‌left‌ ‌her‌ ‌professional‌ ‌career‌ ‌as‌ ‌a‌n arts manager ‌and‌ ‌yoga‌ ‌therapist‌ ‌in‌ ‌Great Britain ‌to volunteer full-time at the meditation center ‌Dhamma‌ ‌Dipa. From there she went on to India to study Pali and into extended solitary retreat in Burma where she ordained as a Theravadian Buddhist nun with the Venerable Pa Auk Sayadaw.
After‌ ‌her‌ ‌training‌ ‌at‌ ‌Pa‌ ‌Auk‌ ‌Tawya‌ ‌Monastery‌ ‌and‌ ‌intensive‌ ‌meditation with‌ ‌various‌ ‌teachers‌ ‌in‌ ‌Burma,‌ ‌including‌ ‌Ashin‌ ‌Tejania‌ ‌and‌ ‌Sayalay‌ ‌Dipankara,‌ ‌her‌ ‌path ‌led‌ ‌her‌ ‌to‌ practice and ‌share‌ ‌in ‌various‌ ‌monastic‌ ‌communities‌ ‌and‌ ‌retreat‌ ‌centers‌ ‌in ‌Australia,‌ ‌Europe,‌ ‌India‌ ‌and‌ ‌the‌ ‌US‌. Over‌ ‌the‌ ‌course‌ ‌of‌ ‌her‌ overall ‌journey‌ ‌she‌ ‌had‌ ‌the‌ opportunity‌ ‌to‌ ‌study‌ ‌with‌ ‌Bhikkhu‌ ‌Analayo‌ ‌and‌ ‌Ajahn‌ ‌Brahm‌ ‌as‌ ‌well‌ ‌as‌ ‌with‌ ‌Jetsunma‌ ‌Tenzin‌ ‌Palmo‌ ‌and‌ ‌Mingyur‌ ‌Rinpoche‌ among others and spent ‌over‌ ‌5‌ ‌years‌ ‌in‌ ‌retreat,‌ ‌mostly‌ ‌in‌ ‌silence.‌ 
‌Her‌ ‌approach‌ ‌to‌ ‌meditation‌ ‌focuses‌ ‌on‌ ‌wakefulness‌ ‌and‌ ‌compassion to develop calm and wisdom ‌and‌ also includes ‌interpersonal‌ ‌practices‌ ‌(Insight‌ ‌Dialogue) as a powerful vehicle for awakening.