You are very warmly invited to join Ayya Piyadassī at the Tilorien iSangha
(http://tilorien.org/en/isangha/) on Saturday 27 June at 9.30am CEST (see here for other time zones) for a Dhamma Talk, meditation and Q&A.
Can a totally secure place be found in the world? In this talk Ayya Piyadassī will share about her journey of meeting this challenge through the Dhamma and explore our insecurities, their sources and skilful ways of working with them.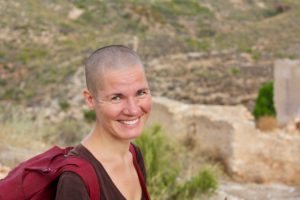 Ayya Piyadassī was born and grew up in Lithuania where she completed a degree in chemistry. Over six years of dedicated meditation practice and Dhamma service in the UK as well as Lithuania, she developed an increasing interest in the Buddhist scriptures and theory behind meditation. This interest led her to study Pāḷi in India. She then proceeded to Myanmar to absorb the teachings available in its traditional Buddhist cultural context and took robes in 2013 with the Venerable Pa Auk Sayadaw as a preceptor. After several years of practising and learning various meditation techniques in mostly, small Pa Auk meditation centres, she returned to Europe for a couple of years. There she had an opportunity to integrate whatever she had learnt in Myanmar while living in the caves of Southern Spain. She is back in Myanmar and currently studying old Indic languages in the Shan State Buddhist University.
Her training in Pa Auk meditation system, academic Buddhism and science coupled with a free life in the wilderness outside of traditional Buddhist society informs the way she shares the Dhamma: giving precise and individual recommendations tailored to a situation, based on the tradition of Theravāda Buddhism.