Ayya Anopama and Deanna Burkett will offer an online retreat, including Insight Dialogue, on the weekend 21-23 August 2020, hosted by Tilorien Monastery's iSangha.

The global pandemic has confronted many of us with the truths of impermanence and suffering. This experience has also revealed places of unreliable, unexamined refuge: our career, physical health, daily routines, social relationships and our expectations for the future. Many of us have been directly confronted with the loss of these things which has challenged our deep conditioning to seek security in these ways of being in the world. 
As we are seemingly returning, post lock-down, to things that feel familiar and safe, how do we remember, in a skillful and supportive way, that these places are not true refuges? How do we remain present and committed to live in ways that support awakening and an ease of heart in the face of ongoing uncertainty and suffering? 
In this retreat, we will propose to take refuge in three precious qualities: Awareness, Compassion and Wisdom. Through the practices of silent meditation and Insight Dialogue, we will cultivate and explore these qualities as refuges which can support us in times of difficulty and joy and do not require that life returns to 'normal'.
About Insight Dialogue
Insight Dialogue is a relational meditation practice designed to help us be awake in our everyday lives. It brings together meditative awareness, the wisdom teachings of the Buddha and the power of relationship, to support the development of liberating insight and compassion while investigating present moment experience.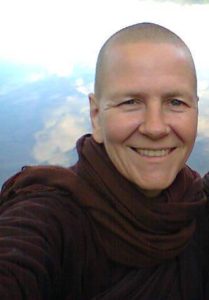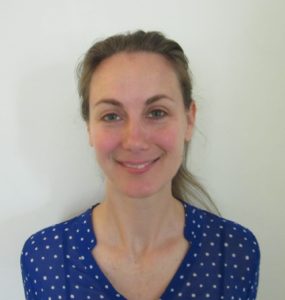 Ayya Anopama has extensive meditation experience with a number of well-known teachers and has been sharing the Dhamma in various settings internationally. To find out more, go to: https://www.samita.be/en/monks-nuns/ayya-anopama/ 
Deanna Burkett was introduced to meditation while attending a month-long Yoga Teacher Training Intensive at the Kripalu Center for Yoga and Health. She has been meditating since 2007 and going on annual silent meditation retreat since 2008. The felt experience of the body is central to her meditation practice and is an orienting factor in her practice and facilitation of Insight Dialogue. Deanna is a masters-level mental health professional, Certified Mindfulness-Based Stress Reduction (MBSR) teacher, and Kripalu Yoga teacher. She has been facilitating MBSR groups since 2013, and teaching meditation for SMART Recovery, supporting meeting participants in recovery from addiction. She has trained as an Insight Dialogue facilitator and is currently studying Somatic Experiencing (SE).
Time of Retreat: The retreat starts on Friday 19.00 and ends on Sunday 17.00 (CEST)  (click here for a detailed schedule).
Prerequisites: prior meditation experience. This can include a consistent silent/solitary meditation practice or prior experience with mindfulness or meditation courses and retreats. Participants are asked to commit to participating for the entire retreat. 
Limited Space: Due to the nature of online practice there is a limited number of places available. People will be accepted on a first come first serve basis.
Registration: Please complete the "Refuge Revisited" registration from (you will receive a confirmation email upon submission; if this doesn't arrive, please check your junk mail and if it isn't there, get in touch with using Tilorien's contact page) . 
Dana: This retreat is offered out of generosity. If you feel moved to engage in this circle of generosity and would like to support the facilitators and Tilorien Monastery in spreading the Dhamma you can make a donation by following this link and stating "Online Retreat: Refuge": https://www.samita.be/en/donations
For more information about Tilorien Monastery and the iSangha, see: www.tilorien.org and www.tilorien.org/en/iSangha
For more information about Insight Dialogue, see: www.insightdialogue.org