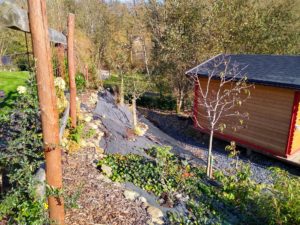 When I look around the monastery, I see so many contributions from so many people! I see the trees we planted last year and all the people who donated them or helped to plant. I see the wallpaper, the paint on the doorframes and the kuti roof and so many other big and small things that were done with the help of so many volunteers and sponsors. I see the flowers come out in the spring and remember the girl who planted them. It fills me with gratitude and humbleness. Now in these times of Covid-19 nobody is allowed to come to enjoy this, but we still have the internet to connect us. I hope that soon I can invite all of you to come again, to spend some time, go for a walk, have a rest and spend a few days or weeks just enjoying Dhamma practice. – Ven. Vimala

Donate a plant to Tilorien Monastery
Last year's tree planting day was a great success and a numberof people donated a tree to be placed in Tilorien's garden for a deceased loved one. Trees are important in our fight against climate change. Trees have been quietly offsetting carbon emissions for centuries, converting carbon dioxide into the oxygen we need for life. The trees we planted last year could offset the CO2 emissions of Bhante Sujato's visit to Europe.
This year, we want to plant one more tree and cover the slope around the existing trees with ground cover plants to cover the weed fabric that is there now.
The following tree/plants will be planted:
Prunus cerasifera 'nigra' – € 82
Viburnum opulus 'roseum' – € 6.76
Ribes sanguineum 'king edward VII' – € 6.76
Hedera per 10 plants – € 11.70
Geranium cantabrigiense 'cambridge' per 10 plants – € 13.60
The total costs of what is needed is estimated to be around € 1000 but we want to spread the planting out over several years because the slope is rather large. So for this year we are aiming at € 300. Unfortunately, due to Covid-19 restrictions we can not accept any volunteers at the moment to help with the planting.
If you feel inspired to contribute and donate some plants to Tilorien Monastery, please mention "garden" with your donation. You can find donation details on our website: https://www.samita.be/en/donations/
Alternatively, we also welcome some flowerbulbs of all kinds that can be planted around the garden and drive. The monastery has been build with the kind contributions of many people and it will be lovely if the flowers from many different people burst forth from the ground in the spring. If you like the idea of donating some flowerbulbs by post, our address is:
Samita ASBL
Engreux 49G
6663 Mabompré
Belgium