Sunday 30th May 2021
10.00-11.00 CEST
More than 2500 years ago, the Buddha taught on meditation, morality, the nature of the world, and the path to freedom. The most important body of sacred scripture in Buddhism is the Suttapiṭaka, the "basket of discourses". These scriptures are our primary sources for the historical Buddha's life and practice. They depict the Buddha and his students in lively conversation with a diverse range of people.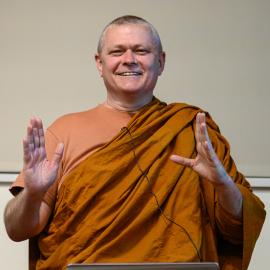 Many of these discourses, the Suttas, have been translated into English by Bhante Sujato and made available through the website SuttaCentral.net. Bhante Sujato will demonstrate the possibilities of SuttaCentral.net while discussing the Puṇṇa Sutta.
Venerable Puṇṇa goes to the Buddha and asks for a teaching before he departs to the foreign land of Sunāparanta (Gujarat). The Buddha warns him that folk there are fierce, and questions whether he is ready for such a difficult assignment.
To join, please complete this form to receive a link.