Most Welcome to Join us on the Online Vesak Celebration Workshop On May 30th, 2021: 
The Qualities of the Buddha and the Whole Life Path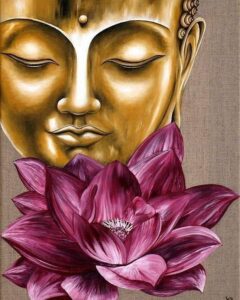 The Workshop will have
An Introduction by Ven Vimala 
A Dhamma Contemplation Practice led by Bhante Sukhacitto
A Dhamma Talk followed by Q&As offered by  Gregory Kramer
Insight Dialogue Practice led by Bhante Sukhacitto
Online Vesak Celebration Workshop Times:
PDT: 7am to 12.30pm
ET: 10am to 15.30 pm
UK/Irish/Portuguese: 15.00 to 20.30pm
CET: 16.00 to 21.30 pm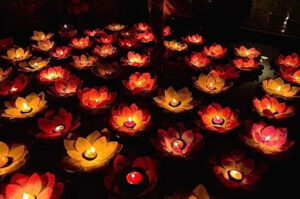 In this five-and-a-half hours workshop, we will contemplate and meditate together on the qualities of the Buddha and the qualities of his teachings, and how they can support us in our lives. This is the outline of the Online Vesak Celebration Workshop:
♣ On the Introduction, the meaning and relevance of Vesak celebration will be explained.
♣ On the Dhamma Contemplation Practice, Participants in a group will begin by contemplating a short excerpt from the Buddha's teachings. Over the course of five distinct practice phases, we will engage with the text and one another, speaking the truth and listening deeply. Participants move from engagements with just the words of the text, then to the emotional resonances, it evokes. This leads to a cognitive investigation of the meaning, discernment of its essence, and finally, setting the text aside to engage in an exploration of present moment experience: how has this life been touched by the Buddha's words.
♣ Gregory Kramer -the Founder of Insight Dialogue and Dharma Contemplation Practices- will offer a Dhamma talk on: "The Qualities of the Buddha and the Whole Life Path." Then, there will be a space for Questions and Answers.
♣ On the Insight Dialogue Practice: Participants begin with a period of silent sitting meditation and are then invited into pairs or larger groups to practice together. Six meditation instructions – guidelines— form the core of Insight Dialogue practice: Pause, Relax, Open, Attune to Emergence, Listen Deeply, and Speak the Truth. The guidelines serve as the foundation for bringing meditative qualities of mind to the practice. In this way, relational contact and meditative qualities of the mind help bring root wisdom teachings into lived experience, here and now.
https://insightdialogue.org/teachings/basis-purpose-insight-dialgoue/
*The Online Vesak Celebration Workshop is Open to Beginners as well as Experienced Insight Dialogue Practitioners. 
**We wish that all the participants attend the complete DC and ID Workshop.
***If you wish to participate, please click here to register. 
Dana/Donations:
* You can support:
https://www.samita.be/en/donations/ or https://www.bhikkhuni.net/dana-offerings/
https://insightdialogue.org/sangha-teachers-fund/