We are very happy to announce that Sayalay Uttarā will ordain as a Sāmaṇeri at Tilorien Monastery on 20th May.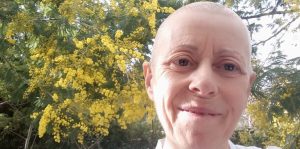 Sayalay Uttarā ordained as a Buddhist nun at The Pyu Tawye monastery in 2008, together with Ven. Vimala. She stayed in Burma for many years to practice in the Vipassana tradition of Sayadaw U Paññajoti. After returning to her homeland Spain she started  Sarana Vihara, a small Buddhist monastery located near the Montseny Natural Park in Spain where meditators can come to learn and practice the Dhamma.
Now she will ordain as a Sāmaṇeri, a novice female monastic who keeps ten precepts; an ordination form that is not possible for women in the Burmese traditions. Pabbajjā literally means "to go forth" and refers to when a layperson leaves home to live the life of a Buddhist renunciate. This process involves preliminary ordination as a novice or Sāmaṇeri. After a period of two years the novice can be considered for the upasampadā ordination (or "higher ordination") whereby the novice becomes a fully ordained monastic (bhikkhuni).
Although Sayalay Uttarā has practiced as a monastic for many years and is well-versed in the Dhamma, the ordination form of "Sayalay" is not officially recognized as equivalent to the monks (male monastics or bhikkhu). Therefore, Sayalay Uttarā has now decided to take steps to ordain as a Sāmaṇeri and she will get training to become a Bhikkhuni with Ven. Vimala as preceptor.
Please find the program for the day below. You are all very welcome to join the celebrations and to congratulate the new Sāmaṇeri.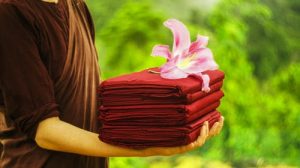 Program:
6.00-7.00 Morning group meditation and Dhamma talk.
7.30 Breakfast
8.30 Work period
11.00 Lunch (please bring a dish to share)
12.30 Lunch cleanup
13.30 Afternoon program incl. Sāmaṇeri Ordination Ceremony
17.00 Teatime
18.00-19.00 Guided meditation by the new Sāmaṇeri and chanting
We have rented two holiday houses in the village for anybody who wants to come from 18-21 May. The costs to Tilorien Monastery are around 100 euro per person and you can contribute to this on a donation basis. If you want to make use of this offer you are welcome to join any time from Thursday 18th May onwards and also join the regular program at Tilorien Monastery.
If you wish to come but don't want to stay in a holiday house please also let us know so we know approximately how many people to expect because we have limited capacity.
If you wish to join the celebrations, please complete the form below: