It is a rainy, autumnal, Saturday afternoon in the small village of Engreux in the Belgian Ardennes. The two headwaters of the Ourthe river flow together here at the "end of the world", as the village has called itself for centuries.
Today, a strange procession can be seen moving along a road that is normally used mainly by hikers and especially cyclists on weekends: A few people dressed in peculiar garments are at the front of the single file line silently walking onwards. They are followed by others carrying various objects. Then the procession circles one of the houses on the road three times. The house does not look very different from the other houses in the village, but at its entrance there is a sign that reads: "Tilorien Monastery".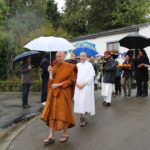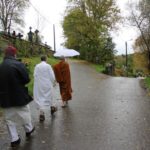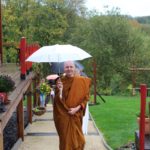 Tilorien Monastery is already well accepted among the residents of Engreux only one year on since it opened its doors. Of the approximately 20 people who visit the monastery on the occasion of this year's Kathina celebration, four come directly from here, others come from the surrounding area, and still others from as far away as London. Also several German guests came from Limburg, Cologne and Saarbrücken. The youngest visitor is not even one year old.
The initiator of the project to build a Buddhist monastery in the area of Belgium/Southwest Germany is Ayya Vimala. After several years of preparation, a plot of land was acquired at the end of 2016, and construction work on a monastery main building began towards the end of 2017. It has a kitchen, bathroom, a meditation hall with space for up to 20 people, a small office and two rooms for guests. The monastery was officially opened at the end of October 2018.
Since then, a Kuti for monastics could be built on the grounds. For two more a building permit has been granted, and if possible, the first steps towards the construction of this double Kuti are to be taken in 2020.
The monastery's website says: "Tilorien Monastery is a monastic community based on Early Buddhist teachings. Our values are inspired by kindness, equality, inclusivity and environmental sustainability. We provide a place of practice that preferences Bhikkhunis and other female monastics, whilst also supporting LGBTIQ+ people and other underrepresented groups to develop in the Dhamma. Tilorien welcomes everyone seeking to end suffering and cultivate happiness. We offer teachings and retreats based on the Buddha's wisdom and compassion."
Let us now follow our procession into the monastery building: A narrow staircase leads up to the meditation hall on the upper floor, and today it is densely filled. For the first time in the short history of the monastery, a Kathina robe is offered to the Saṅgha with joyful solemnity.