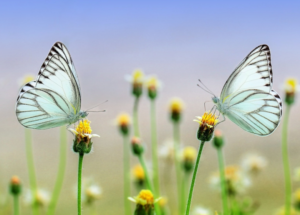 Over the past months Ayya Anopama has offered two courses in Insight Dialogue with participants joining from Europe, the US and as far as New Zealand. For the second course Ayya was joined by Juliane Dienemann joined as a co-facilitator. Insight Dialogue is an interpersonal meditation practice that helps us to be awake in our daily lives. It combines meditative awareness, the teachings of Buddha and the power of relationship. 
During the first course participants were introduced to Insight Dialogue while exploring present moment awareness and our shared human vulnerability as a refuge in times of uncertainty. The second course explored the Brahma Viharas of Loving-Kindess, Compassion, Appreciative Joy and Equanimity as 'Abidings beyond limits' and inquired into some of the obstacles which prevent us from cultivating and dwelling in these wholesome qualities of mind.
Both courses were received with great enthusiasm by the participants and some of them have now organised themselves into an ongoing practice group  as a result. The group will start meeting from Monday 22nd June for Dharma Contemplations. If you would like to find out more or join in, please send a message to the organiser via https://tilorien.org/en/contact/, selecting 'Dharma Contemplation Peer Group' as the subject. 
We wish to extend a very heartfelt SADHU! to Ayya Anopama and Juliane Dienemann for their sharing of the Dhamma in these difficult times and to the Vipassana Meditatie Centrum Groningen for offering Ayya Anopama temporary refuge, enabling her to to do this valuable work. These are very precious gifts indeed!
This is what participants said:
I was very impressed about the depth of practice through the online sessions, it was possible to engage wholeheartedly and feel the others as well as the inner and outer energy supports. Also, congratulations for your well-structured and organised course, there were fluidity and rhythm together with plenty of time for inner silence and pausing observations. It was a truly harmonious experience. Thank you so much.
It was really inspiring to observe how the benefits of the Insight Dialogue Sessions were connected to my day to day life. It was really inspiring to listen and learn from each of the participants as well as from the facilitators. It felt as if the Brahma Viharas were manifesting through us, thank you so much.