(by Maria Backes)
If you want to do something completely different, something you've never done in your life before, go and live in a forest monastery.
If you want to finish off with your work, go and live in a forest monastery. – Oops, I forgot: there's actually a lot of work to do there, too. But different work. – Really different?
If you want to find a place where hardly anybody is interested in what you did so far in your life, go and live in a forest monastery.
If you want to find a place where you are warmly welcomed and provided with all necessary requisites without being asked anything in return, go and live in a forest monastery. You will want to give something in return and are very happy to be able to!
If you want to live on eight precepts* and find it very natural, go and live in a forest monastery.
If you are searching for a place to live in the middle of nature, go and live in a forest monastery.
If you want to learn how to survive without electricity and other modern facilities we are so used to, go and live in a forest monastery. At least some will provide this kind of training.
If you really want to learn more about your body and your mind, to challenge your own boundaries, go and live in a forest monastery.
If you want to learn something about gender discrimination in Buddhist traditions and about different ways of dealing with the problem – mostly from kind motivations, but sometimes still with results that are hurtful for some -, go and live in a forest monastery.
If you want to live in seclusion and in public at the same time, go and live in a forest monastery.
If you want to witness the amazing transformation of some dry and rough shrubs and hedges in the Australian bush into something covered with flowers in all kinds of colours, go and live in a forest monastery. In this case the forest monastery should preferably be in Australia. And if you want to see one of these spectacular kangaroo paws, Western Australia would be really cool 🙂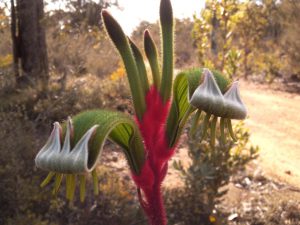 If you want to find all this inspiration and energy for your meditation in the beauty of nature, go for long bush walks… of course in your forest monastery!
If you like to make close contacts with ticks, mosquitoes, ants, and spiders, go and live in a forest monastery.
If you want to find a community where people at least try and give their everything to live together in harmony, go and live in a forest monastery. They might not always succeed, but that's what they value.
If you want to find friends, go and live in a forest monastery.
If you want to learn how to let go of expectations, go and live in a forest monastery.
If you want to find out how contentment feels like, go and live in a forest monastery.
If you want ……………, go and live in a forest monastery!!!
Not all of these things I was aware of when I entered the airplane in Frankfurt on December 30, 2015, with a one year visa for Australia. My equipment was a 7 kg hand luggage backpack and a shoulder bag, nothing else. My plans were limited at a one month stay at Dhammasara Nuns Monastery in Gidgegannup near Perth which I had booked beforehand, nothing else. Oh yes, and I had applied to spend the three months' Vassa (the rainy season retreat as observed by monastics since the time of the Buddha; from full moon in July until full moon in October) in Bodhinyana Monastery, because that has to be done a year in advance. "Go there and see what happens", was mainly the motto. And a lot of things happened!
I give you here an overview over the different stages of my adventure:
From January to March I stayed at Dhammasara Nuns Monastery, Gidgegannup, near Perth.
From there I flew to Sydney (New South Wales) where I stayed with friends for a week, and then went to Wat Buddha Dhamma, a monastery north-west of Sydney, for two months.
I went back to Western Australia to attend Ajahn Brahmali's retreat at Jhana Grove in June, after which I visited Dhammasara again for a couple of weeks.
From 6th of July on I stayed at Bodhinyana Monastery, the monks' monastery at Serpentine / Perth run by Ajahn Brahm, where I spent the Vassa retreat.
On my very last day before taking the flight back to Germany I was invited by a friend in Perth to stay at her place – and she took me to the beach, so that I could even for once bathe my toes in the Indian ocean 🙂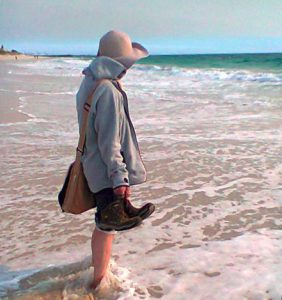 So often images say more than a thousand words!
Dhammasara Nuns Monastery:
Wat Buddha Dhamma:
Bodhinyana Monastery (it happened to be the wildflower season):
You can also visit Samita's facebook page and find there little articles about some episodes of my trip, some of them in German, some in English. Basically, I wrote these articles as emails for my family and friends during my journey; and now I am happy to share them with you, too. Enjoy! 🙂
* The eight precepts as usually observed by lay practitioners living as guests in a monastery:
1. Abstaining from taking the life of living beings.
2. Abstaining from taking what is not given.
3. Abstaining from all sexual activity.
4. Abstaining from false speech.
5. Abstaining from intoxicating drinks and drugs that cause heedlessness.
6. Abstaining from eating at improper times.
7. Abstaining from distracting entertainments and beautification of the body.
8. Abstaining from "high and large seats and beds".