Twenty months ago, in March 2015, we started out with just a handful of people (actually, exactly three… ) to found Samita ASBL. Our starting point we knew, but where it would lead us to was completely uncertain.
It is incredible what we have achieved until now: Our little association has grown to 35 members and over 250 newsletter subscribers who are following our regular updates. The Board too has grown so that the load of the administration work can be divided on a few more shoulders. We bought land for a new monastery and probably will start building next year (2017). We have a website in four languages and a Facebook page. And we have organized some retreats with well-known monks and nuns. We are very lucky to be supported by some main sponsors and people who gave us loans what makes it possible to start with the first building phase of the actual monastery.
What exactly means "first building phase"? We have to be a bit unpretentious about this 🙂 There will be a small house with walls and a roof, and water and electricity will be inside the building. The inner surface will be around 60 m2 (70 m2 including walls which have to be well-insulated). That's it. Our monastic community will be able to camp under a roof, at least.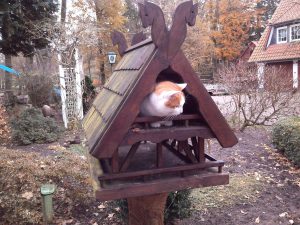 Then the actual work will only start!
In a few weeks we will know more about the exact costs of the new construction. What the sponsors (and those who have given us a loan) have contributed so far will presumably cover what is needed for the above described first building phase, but no more. In order to finish the interior we will need to buy materials for flooring, interior walls, bathroom and kitchen, plumbing and wiring etc.
On the outside we will have to build a driveway and plant some trees and hedges (they need long time to grow and are supposed to give the monastery more seclusion). For the nuns we have to build some kutis (meditation huts). In the long run we are planning to construct a second building in order to have a proper meditation hall and more room for guests (not in the drawing).
As you can see there is still a lot to be done! (Look here for more details.) If you feel inspired by our project there are many different ways you can support us. We will need donations in order to buy the necessary building materials, and we will need hands to do the actual building. We also need some people with expertise, for example in plumbing. And, of course, we need all your mental support in order to keep us inspired for this big project!
In the suttas it says that building a monastery is one of the most worthy things you can undertake in your life. The highest possible gift is the gift of Dhamma, and in order to give this gift monastics need a place to stay; maybe that's the reason why establishing a monastery is considered so precious. Help us establish this monastery with Samita! Participate with us in this great project! With our shared efforts we will be able to realize our ambitious plans, for the benefit of many beings!
If you want to donate towards the new monastery you can use the PayPal button here or find the bank details in the right sidebar. Any amount, however small, is most welcome!
[paypal-donation]
If you want to support us with some Dhamma work or with your expertise, please contact us.
If you want to give us mental support, please leave your inspiring comments under this post 🙂 And: Spread the message! Share this post with your friends, visit us on Facebook and share whatever you like there! Become a member of Samita ASBL and follow our regular updates! Subscribe to our newsletter (in the right sidebar) if you are not yet on the list!
Thank you for your help!