Online Meditation Retreat with inspiration from the Suttas
25th November – 4th December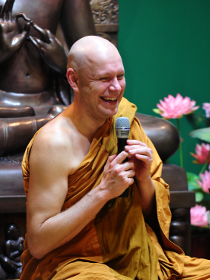 The 8-Fold Noble Path
This meditation and sutta-retreat is dedicated to the development of meditation and the study of aspects of the practice. Ajahn Brahmali will focus on the 8-Fold Noble Path.
How many factors does the noble eightfold path have? Hmm … 🤔 Nothing could be more obvious, yet it is so common to find paths with one or more factors missing, and occasionally with factors added. If we want to reap the benefits of the Buddha's path to awakening, we need to ensure we follow the instructions.
On this retreat we will look at the various factors in quite a bit of detail, and also show how they all relate to each other. The purpose of the retreat is to give a clear overview of what is needed for full awakening, nothing less. Regardless of where you are on the path, and regardless of what your ambition is, you will find this useful.
In meditation retreats, you let go of the complex world outside in order to reach a powerful peace within. Meditation is the path to a pure and empowered mind, the experience of which, released from the world, can be incredibly blissful and spiritually rewarding. Depending on your level of practice, as well as your life conditions, there may be some hard work, especially in the beginning. You'll learn that effort alone is not sufficient. Effort needs to be skillful. In particular, patience and kindness towards oneself is required, and this can only be achieved through regular practice over time.
This retreat is designed to develop additional practical techniques and uncover deeper insights, building on your existing practice. Experience is not necessary but prior practice is still highly recommended. You can expect a strong focus on sitting and walking meditation for many hours a day, over the entire retreat, only interrupted by 3-4 hours of daily teaching. The bulk of your retreat time will be spent in solitude and silence, focussing on your inner states. All participants are asked to keep the meditation conditions advised by the Buddha and outlined below as long as their circumstances allow. We understand that practicing at home will pose other challenges but please consider creating conditions that help your practice as well as possible.
The retreat will be primarily held in English, but translations of the guided meditations and Q&A in French will be available to clarify aspects of the teachings.
Please click here for more information about Ajahn Brahmali.
Ajahn Brahmali will be assisted in this retreat by Ayya Poonsirivara from Thailand and Ven. Vimala from Tilorien Monastery in Belgium.
Ayya Poonsirivara ordained in Srilanka as Samaneri, 2004, and Bhikkhuni ,2007, at Golden temple in Dumbulla. She now lives in Thailand and is abbess of Suan Siritham.
Eight Precepts
This is an eight-precept retreat. All who attend are asked to undertake the following precepts for the duration of the retreat. Keeping the 6th precept might be especially challenging during a home retreat but try to the best of your abilities; it will help your practice.
1. To abstain from killing living beings
2. To abstain from taking what is not given
3. To abstain from all sexual activity
4. To abstain from dishonest speech
5. To abstain from intoxicants
6. To abstain from taking food after mid-day
7. To abstain from singing, dancing, listening to music and from bodily adornments
8. To abstain from sleeping on luxurious beds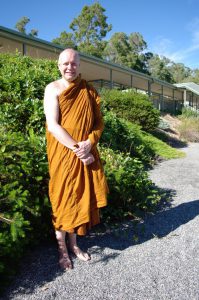 Noble Silence
Practicing at home it will also be challenging to practice "Noble Silence", especially if you live with other people. But you can try to keep interactions to a minimum and inform others around you of the benefits of staying silent while on retreat.
Noble Silence means no talking or non-verbal communication of any kind, except of course in emergencies or discussion times with the Teacher. Noble Silence applies not only to speech but also to any signals and written notes etc. as well as to external contact by telephone or internet.
The purpose of Noble Silence is to allow the mind to let go of outer distractions and to focus as much as possible on the inner world. In this regard it is also useful to minimize eye contact with other retreatants. Practicing restraint of the senses in this way provides an essential foundation for the powerful inner work which a meditation retreat facilitates.
This Noble Silence will give the participants the maximum benefit from the meditation they learn and if you practice with others in the same facility, it minimizes the disturbance to others. Therefore, please do not play musical instruments, radios, mp3 players, etc.
Program
All times are in CET (Central European Time: Brussels/Amsterdam). If you wish to know the times in your timezone, you can use the converter.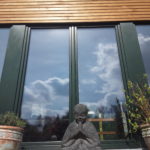 Wednesday 25th November
18:00 –  19:00 Welcome, Introduction into the retreat, taking precepts, guided meditation (Ven. Vimala)
26th November – 3rd December
6:00 – Morning meditation and Chanting (Ayya Poonsirivara)
7:00 – Breakfast break
8:00 – Guided meditation (Ajahn Brahmali)
Saturday 28th Nov (Ayya Poonsirivara) Fun with Dhamma active learning
8:45 – Dhamma Talk & Questions and Anwers (Ajahn Brahmali)
Saturday 28th Nov (Ayya Poonsirivara) Fun with Dhamma active learning
10:00 – Personal practice and lunch break
Saturday 28th Nov (Ayya Poonsirivara) Guided meditation
15:00 – Guided meditation (Ven. Vimala)
16:00 – Personal meditation practise and tea break
18:00 – Chanting and silent meditation (Ven. Vimala)
19:00 – Q&A (Ven. Vimala) (Not on Monday 30th November)
20:00 – Personal meditation practice
Friday 4th December
6:00 – Morning meditation and Chanting (Ven. Vimala / Ayya Poonsirivara)
7:00 – Breakfast break
8:00 – Guided meditation (Ajahn Brahmali)
9:00 – Dhamma Talk & Questions and Anwers (Ajahn Brahmali)
10:00 – Finish
Retreat suttas & chanting book
The sutta excerpts used on this retreat are available in English and French here:
The chanting book used for the morning puja led by Ayya Poonsirivara is available here:
The Sacred Book Of Buddhist Chants, Pali – Thai – English Translation
You can download the Tilorien chanting book for the evening chanting here:
https://www.samita.be/en/media/books/
Part-time participation
If you only wish to view the Dhamma Talks, we ask you to please watch these through the retreat playlist our YouTube channel and not register for the retreat because there are only limited places available.
Recordings will be made of the morning chanting, guided meditations, Dhamma talk and Ajahn Brahmali's Q&A sessions and these will be made available on YouTube as soon as possible the same day (Ayya Poonsirivara's Fun with Dhamma Active Learning will not be recorded).
Costs
This online retreat is organised on the basis of donation. All expenses are paid for you with the kind donations of previous participants and other donors, who wish to give others the opportunity to experience the Dhamma. All work is done on a voluntary basis only; nobody receives any remuneration and also Ajahn Brahmali, Ayya Poonsirivara and Ven. Vimala give their time freely. Every participant may contribute at his/her discretion and according to his/her means, so you can also contribute to spreading the Dhamma further.
If you already like to donate something before the retreat, you can do so via our bank account but please mention your name and "Brahmali Retreat" as a reference. You can also use the PayPal "donate" button: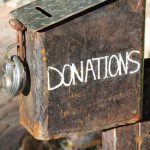 Account: Samita ASBL
Engreux 49G, 6663 Mabompré, Belgium
BIC: TRIOBEBB
IBAN: BE24 5230 8072 9438
Every donation helps us spread the Dhamma!
Registration
Part-time participation: If you only wish to view the Dhamma Talks for this retreat, we will be uploading them daily to our YouTube channel. As there are limited places available, we kindly ask that you don't register for the retreat, but instead watch the talks via the retreat playlist on YouTube.