Dear friends,
Due to the continuing uncertainty surrounding Covid-19, we are very sorry to announce that we've had to reach the decision to postpone Ajahn Brahmali's The Four Noble Truths retreat that was due to take place in June. We have provisionally re-scheduled the retreat for 25th November – 4th December, however, as it is still very unclear how the situation with Covid-19 will develop, at this stage we cannot rule out the possibility of having to cancel the retreat altogether.
For the time being we will not be taking any new registrations for this retreat, but as and when things become clearer we will update this page as accordingly.
In the meantime, wishing that you are safe and well,
With much metta,
Aminah (registration manager)
---
Meditation Retreat with inspiration from the Suttas
10 – 19th June 2020
Engreux, Belgium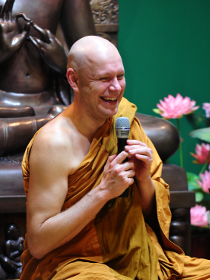 The Four Noble Truths
This meditation and sutta-retreat is dedicated to the development of meditation and the study of aspects of the practice. Ajahn Brahmali will focus on the four Noble Truths.
The four noble truths encompass the entire Dhamma. As such they provide a bird's eye view of what Buddhism is all about, as well as a complete map for anyone on the most profound of all spiritual journeys. The four noble truths are also a way of looking at the world and life. They consist of a thorough investigation of the right view that stands at the beginning of the path to liberation. Right view is what gives power to the path. Our values are intimately connected with how we look at the world and life. And our values in turn shape our priorities and where we apply our energy. The fast track to awakening is aligning our outlook with the insights of the Buddha.
In meditation retreats, you let go of the complex world outside in order to reach a powerful peace within. Meditation is the path to a pure and empowered mind, the experience of which, released from the world, can be incredibly blissful and spiritually rewarding. Depending on your level of practice, as well as your life conditions, there may be some hard work, especially in the beginning. You'll learn that effort alone is not sufficient. Effort needs to be skillful. In particular, patience and kindness towards oneself is required, and this can only be achieved through regular practice over time.
This retreat is designed to develop additional practical techniques and uncover deeper insights, building on your existing practice. Experience is not necessary but prior practice is still highly recommended. You can expect a strong focus on sitting and walking meditation for many hours a day, over the entire retreat, only interrupted by 3-4 hours of daily teaching, personal interviews and (vegetarian) meals. The bulk of your retreat time will be spent in solitude and silence, focussing on your inner states. We do not permit meditation methods that involve audible sounds and/or vigorous body movement as they disturb others. All participants must keep the meditation conditions advised by the Buddha and outlined below.
During the retreat, each participant can have a 'personal interview' with Ajahn Brahmali to discuss spiritual progress.
The retreat will be primarily held in English, but translations in French and help in German and Dutch is available to clarify aspects of the teachings.
Please click here for more information about Ajahn Brahmali.
Eight Precepts
This is an eight-precept retreat. All who attend are asked to undertake the following precepts for the duration of the retreat:
1. To abstain from killing living beings
2. To abstain from taking what is not given
3. To abstain from all sexual activity
4. To abstain from dishonest speech
5. To abstain from intoxicants
6. To abstain from taking food after mid-day
7. To abstain from singing, dancing, listening to music and from bodily adornments
8. To abstain from sleeping on luxurious beds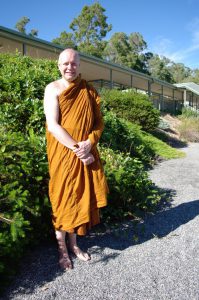 Noble Silence
This is a "Noble Silence" retreat. This means that all participants are kindly asked to observe Noble Silence from the beginning of the retreat until the morning of the last full day. This applies as well for the public areas as for the rooms.
Noble Silence means no talking or non-verbal communication of any kind, except of course in emergencies, interviews or discussion times with the Teacher. Noble Silence applies not only to speech but also to any signals and written notes etc. as well as to external contact by telephone or internet.
The purpose of Noble Silence is to allow the mind to let go of outer distractions and to focus as much as possible on the inner world. In this regard it is also useful to minimize eye contact with other retreatants. Practicing restraint of the senses in this way provides an essential foundation for the powerful inner work which a meditation retreat facilitates.
This Noble Silence will give the participants the maximum benefit from the meditation they learn and minimizes the disturbance to others. Therefore, please do not play musical instruments, radios, mp3 players, etc.
Program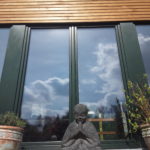 Wednesday 10th June
17:00 – Arrival and registration
18:00 – Evening meal
20:00 – Welcome, Organisation, Introduction into the retreat, meditation
21:30 – Meditation (optional)
11 – 18th June
4:00 – Rise with gusto!
4:30 – Alternating walking- and sitting-meditation (optional)
6:00 – Chanting in the meditation hall
6:10 – Sitting/Walking meditation
7:00 – Breakfast and Work-period
9:00 – Ajahn Brahmali's Dhamma talk
10:00 – Alternating walking- and sitting-meditation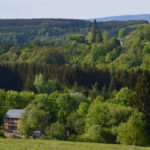 11:00 – Lunch
13.30 – Alternating walking- and sitting-meditation
15:00 – Ajahn Brahmali's Dhamma talk
16:00 – Meditation & interviews
17:00 – Afternoon tea and "allowables"
18:30 – Alternating walking- and sitting-meditation
20:00 – Q&A with Ajahn Brahmali
21:00 – Sitting meditation (optional)
Friday 19th June
4:00 – Rise with gusto!
4:30 – Alternating walking- and sitting-meditation (optional)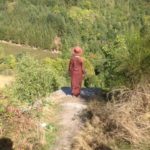 6:00 – Chanting in the meditation hall
6:10 – Sitting/Walking meditation
7:00 – Breakfast and Work-period
7:30 – Cleanup rooms
9:00 – Ajahn Brahmali's Dhamma talk
10:00 – Alternating walking- and sitting-meditation
11:00 – Lunch
12:00 – Finish
Costs
This retreat, including accommodation, food and contribution for the Teacher, is organised on the basis of donation. All expenses for your accommodation, meals, etc. are paid for you with the kind donations of previous participants and other donors, who wish to give others the opportunity to experience the Dhamma. All work is done on a voluntary basis only; nobody receives any remuneration.
The table below lists the costs for the basic accommodation, meals and expenses, depending on the type of accommodation you choose, and do not include donations for the teachings by Ajahn Brahmali. These costs also cover afternoon snacks and drinks, rental of the hall, travel expenses and accommodation for Ajahn Brahmali, etc. Every participant may contribute at his/her discretion and according to his/her means, so you can also contribute to spreading the Dhamma further.
| | |
| --- | --- |
| Spacious shared room (2 beds) | 275 € |
| Double room single occupancy | 550 € |
| Non-residential* | 150 € |
| Kitchenhelper** | 150 € |
* Privately arranged accommodation in a hotel or guesthouse nearby. This suggested donation includes meals, hall rental and other overheads.
** We need one person to volunteer to help in the kitchen in the morning. You will miss the first Dhamma Talk but will be able to listen to the recording later on. This is a wonderful opportunity to give Dhamma-dana!
We ask a 50 € non-refundable registration fee when booking.
If you already like to donate something before the retreat, you can do so via our bank account but please mention your name and "Brahmali Retreat" as a reference. You can also use the PayPal "donate" button: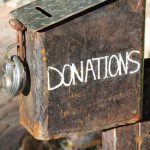 Account: Samita ASBL
Engreux 49G, 6663 Mabompré, Belgium
BIC: TRIOBEBB
IBAN: BE24 5230 8072 9438
Every donation helps us spread the Dhamma!
Registration
Venue
The retreat takes place in the village of Engreux where Tilorien Monastery is located.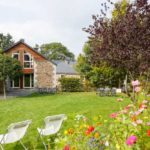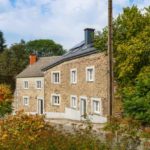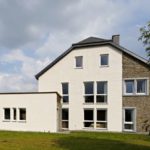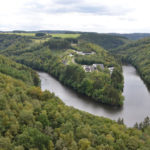 The retreat takes place in the old school and accommodation is provided for in several old houses near the monastery.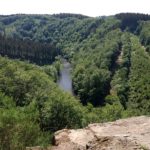 Please bring:
Bed-linen and towels or sleeping bag. A duvet and blankets are provided.
Meditation pillow and shawl (we can only provide a mat).
Only biodegradable toiletries.
Flashlight and umbrella.
Route
You can find all information on how to get to the monastery on the website: https://tilorien.org/en/visiting/how-to-find-us/
For those who are coming by train or bus, please try to get the bus to Engreux. We will also organize a shuttle to Bastogne-Sud.